Genova
Posted on 2016/10/30 11:48:19 (October 2016).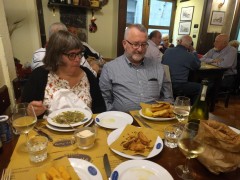 [Tuesday 25th October 2016]
In some sense today's visit to Genova was the motivation for this whole trip to Italy. Some time earlier this year I had begun daydreaming about the meal Chie and I had at Osteria di Vico Palla back in summer 2014, while Erika had dozed in her buggy tucked under the table. The mandilli di seta had been one of those particularly evocative food memories from a holiday which, in honesty, hadn't been entirely a success. I think I must have mentioned it to Dad at Easter, and the idea of Dad coming along on this trip came from there.

It's about a 2 hour train journey from Turin to Genoa, and it did feel a bit like we were going there just for lunch - on arrival we got a taxi from the station directly to the restaurant, and we only really stayed in the city for about 4 hours or so. Still, I was quite happy with that arrangement, and am pleased to report the food at Vico Palla was exactly as I remembered it. In fact even better this time around as they also had deep fried porcini on the menu, which seemed a very decadent use of such a prized mushroom, but here in Italy they can be found in abundance, and this was actually a really nice way to cook them - it really sealed in the flavour. I hope Dad and Janie really enjoyed the meal too - I think they did.

After lunch we took a stroll along the harbour - which had a lot more superyachts than I remember - and then into the city for a meander through the windy streets. I had a couple more places on my todo list for the visit - first I wanted to pop into a caffe called Marescotti having seen it last time, and having been intrigued by the title "liquoreria". They did indeed sell a large assortment of liqueurs, aperitivi, etc. Most interestingly I discovered they had a Genovese vermouth, which I of course had to buy a bottle of.

Then we went to relive the other wonderful food memory from my previous visit - the blissful gelato at Profumo di Rosa. We chatted to the lovely lady who ran the place, and I told her what happy memories I had of being there with Erika, having her first proper gelato.

From there we gradually meandered back in the direction of the station, taking in the very grand Via Garibaldi en route. It took another couple of hours to get back to Turin, I think we got back some time around 8, and then I think we just stayed at the apartment for the remainder of the evening.



Post a comment