Monday in Venice
Posted on 2017/11/11 10:09:40 (November 2017).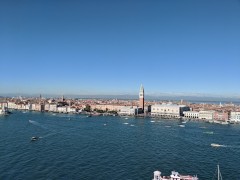 [Monday 23rd October 2017]
Looking back it seems like we had hardly done anything the day before, and we almost might as well have been anywhere other than Venice. Perhaps this was partly down to the staggered nature of arrivals of our various guests - and maybe we were waiting for a larger quorum before embarking on any more serious sightseeing. Or maybe we were just finding our feet.

Either way though, I felt we really got into our stride today, helped by quite glorious weather for the time of year. I suggested a candidate itinerary to the others, and everyone seemed happy to fall in with our plans.

We started by walking to the Rialto bridge, posing for a few quick photos, then taking the vaporetto from there down the Grand Canal, with a quick stop off at St. Mark's Square, then over on another vaporetto to San Giorgio Maggiore. We took the lift to the top of the church's campanile and were treated to spectacular views in all directions from there - we really had chosen the perfect weather for it. All of Venice was laid out before us, and we could see as far as the Dolomites, all the better for the wonderful blue skies and blue sea.

It had of course taken a while in the morning to get everyone out of the apartment, and by now it was just after midday and tummies were already starting to rumble. Thankfully I had a plan for lunch close by (at least in theory) at La Palanca on La Giudecca. This is actually a separate island to San Giorgio Maggiore, separated by only a very narrow strip of water - and it's a shame there wasn't a footbridge linking the two as we'd have been able to walk there much quicker. Can't quite remember what went wrong with the vaporetto, I think possibly we had a bit of a wait then accidentally got on one in the wrong direction. Anyway, we got there in the end.

Snack Bar La Palanca is somewhere I remember with great affection. On mine and Chie's first trip to Venice together we had stayed on La Giudecca for part of the trip, and came here a couple of times - once to catch a glorious sunset at aperitivo hour, and then again for a simple but really memorable lunch. On that trip Chie was pregnant with Erika, and I remember the owner, Andrea, being particularly kind to us when we mentioned Chie was expecting. So it seemed kind of fitting to revisit on this trip and introduce Erika to Andrea, who I'm pleased to say hadn't changed a bit - we recreated the same photo of me and him while we were there to prove it.

I think this went down really well with the rest of our group, it's a fantastic spot, right on the water's edge, looking across to the main island of Venice.... but being on La Giudecca it's a bit off the tourist trail, and there's something really genuine and homely about La Palanca. I'm pretty sure a good time was had by all, although finding something suitable to eat for each of the kids was initially a bit of a challenge as always (Erika, I'm happy to report, was the easiest of the bunch - we both had the same tomatoey pesto pasta which was simple but delicious).

We lingered over lunch for as long as we thought we could get away with it, given we had four children in tow, and a glass or two of wine and a couple of spritzes later I begrudgingly agreed it was perhaps time to move on. It's just such a lovely spot, with such genuine warmth from our host, and this was really one of the highlights of the trip for me.

I had not yet exhausted my itinerary though, and next up, after another vaporetto back across the water, was to take a look at another of my favourite spots in Venice - the San Trovaso boatyard, where many of Venice's gondolas are made and maintained. Although you can't actually get in, it just makes for a particularly picturesque setting, seen from across the canal, especially with the added attraction of a spritz from Cantine del Vino giÓ Schiavi.

It is best with kids, and with larger groups in general, not to try and overdo it, and so this was the final item on my planned itinerary for the day. From there we meandered slowly back towards the apartment, and I stopped off en route to buy some porcini as my small contribution to tonight's dinner, for which Joe had volunteered to do the bulk of the cooking.

Before dinner I went to Fondamente Nove again to meet what were originally intended to be our two final guests (although as it eventually worked out we still had one more to come) - Alice and Jeremy. For some reason this time Erika decided to stay at the apartment with the other girls. I arrived a bit early so treated myself to a spritz at one of the little cafes lining the water front on the Fondamente Nove. I was really quite enjoying the role of the host greeting guests as they arrived by boat.

So we had our full complement of 11 for dinner that evening. Joe's cheese sauce perhaps went slightly awry, but the porcini I made as a side dish seemed to be very well received - I just fried them in a bit of olive oil and garlic and added a splash of prosecco. it seemed to turn out quite well.

In the evening Leon agreed to keep an eye on Erika after she went to bed, so Chie and I could go for an evening wander. We went down to the Rialto bridge, then continued all the way to St. Mark's Square, before getting a vaporetto from there back to the Rialto again. A nice end to what was on reflection quite possibly the best day of the holiday.



Post a comment