To Swiss Cottage and Back
Posted on 2018/03/04 11:28:35 (March 2018).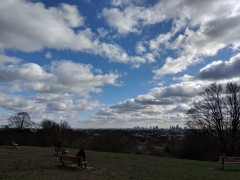 [Sunday 11th February 2018]
Walking seems to have become my new thing at the moment, since my trip to Herefordshire at the start of January. For some time now I've had a nagging concern that I really ought to do some kind of exercise, especially since moving from Pimlico, when my office was in Victoria, where at least I'd have a 30 minute round trip on foot to the office and back each day in the week, and on Saturday mornings we'd often take a leisurely stroll into the centre (by way of the Regency Cafe).

It's more like 45 minutes each way to the office now, and some parts of the route are frankly just a bit grim, so it isn't particularly enticing. Besides, for the past few months I've been working from home most of the time as I don't work with anyone who is based in London any more, and the office is in just about every possible way an inferior work environment to home.

So I am trying to at least get in longer walks at the weekends. For mental as much as physical health. I find a long walk a very effective way to clear my head and get a bit of time to myself during which I don't feel pressured to be doing something.

Ideally it would be a repeat of that transcendental stroll through the remote Herefordshire countryside on a crisp still morning with nobody else around, but the reality of living in fairly central London and not being regularly blessed with long periods of free time to get out of the city mean that I typically have to make do with either a very urban amble, or, the best compromise - a walk involving Hampstead Heath.

Today we were going to Swiss Cottage to visit Japanese friends of Chie's who had kids (who were therefore also friends of Erika's) for lunch. They'd been to our place around this time last year for lunch - when I took my first foray into sabrage and wanted to return the favour. As they lived near Swiss Cottage I decided to walk there and back. I did ask if Chie and Erika wanted to come with me but they didn't seem keen.

The most direct route suggested by Google Maps looked a tad dull so instead I diverted slightly to include the southern bit of the Heath. The route from home to the Heath has now become a very familiar one - I usually like to take in College Lane and Little Green Street. But then beyond the Heath the other side, into Belsize Park, took me back to what feels now almost like a past life - when I used to live there in 2000/2001. I walked past my old flat and got to reminiscing about those slightly strange days, approaching two decades ago now. There's that saying about youth being wasted on the young, and certainly Hampstead was wasted on me back then. I had no real appreciation for the finer things in life, no sense of what a desirable place that was to live other than when other people told me. I didn't really explore the surrounding area much when I was living there (as an example the Holly Bush is somewhere I only discovered when I moved back to London post 2007), spent most of my evenings when I was there cooped up indoors working on pet software projects, and often spent weekends back in Reading. What a waste!

Had a nice lunch with Chie's friends who were very hospitable, while Erika was kept entertained playing with their kids.

Then just after 4 I decided it was time to head home and did something like the same walk in reverse, albeit skipping Hampstead Heath on the way back. There was a nice symmetry to the photos I took on Little Green Lane and College Lane on the way back.



Post a comment