Cocking to Petersfield
Posted on 2019/01/02 11:25:37 (January 2019).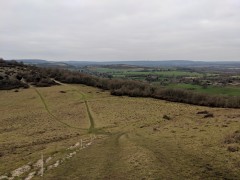 [Monday 31st December 2018]
I was pleased to discover I'd have the opportunity to fit in one last walk along the South Downs Way before the end of the year, as Chie and Erika had planned to go visit friends in the daytime, so I was left to my own devices for the day.

I actually made a relatively early start this morning, managed to leave home around 8:30, and was at Waterloo station by 9, with a full half hour to buy tickets, and also procure breakfast and lunch, before the 9:30 train to Haslemere.

Following some fairly lengthy research into the logistics of how best to get to and from the next section of the South Downs Way, I eventually decided it would be best to get the bus from Haslemere down to Midhurst, then a second bus from there to just South of Cocking, where the South Downs Way crossed the road. This meant buying the rather grandiosely named "Gold AD Dayrider" ticket, which I believe allowed me unlimited usage of buses in the Stagecoach network for the day, for the sum of £8.60.

This did actually mean I'd end up skipping a short section between Graffham and Cocking, a couple of miles perhaps. As there seemed to be no easy way to get back to Graffham by public transport, and not wanting to rely on the vagaries of taxis in rural areas, plus the fact I had fairly limited daylight hours again, I decided to just write that off.

Despite my comparatively early start, the tube, train, and two buses to get to the starting point of the walk meant it was about 11:20 when I was finally underway. I'd planned to walk to Petersfield, and that should apparently take 4 to 4 and a half hours, so there was just about enough daylight to achieve this from that point on.

The weather was a bit uninspiring today, although I suppose for the time of year it could have been worse - it wasn't extremely cold, nor did it rain, it was just unrelentingly grey, which rather subdued all the views along the route. As you can probably see in the pictures everything looked a bit colourless and washed out today, and that never really abated at any point. Regardless, I was still happy to be in the great outdoors, enjoying the freedom of another walk along the South Downs, even if it didn't have quite the same aesthetic appeal I have seen on other walks earlier this year.

Like the previous section, much of this walk was again through a distinctly agricultural landscape, and that was certainly the case for most of the first hour. However, in patches it did break out of this mould. An hour into the walk I arrived at the Devils Jumps, a series of Bronze Age burial mounds. This was the first time I'd really encountered such a notable sign of ancient civilisation along the South Downs Way (or at least the first time I'd really noticed one) - I'm sure the South Downs must have plenty, perhaps the path just doesn't happen to pass directly by so many.

Earlier I had overheard a couple in Marks and Spencer in Waterloo station discussing whether or not to take advantage of the "meal deal". I seem to be struggling to enunciate why exactly, but I found this really depressing, and somehow emblematic of the fact that we as a civilisation have completely no idea who we are any more.

Being now alone amidst the remnants of a society from several millenia ago felt very poignant. The contrast seemed very stark, and it was hard to imagine the day-to-day decisions made by those buried here were ever so trivial.

A short while later, I had a slightly odd encounter, which to some extent dovetails with the pondering of times past provoked by the Devil's Jumps. It is of course common when out walking to encounter other walkers, and as appears to be the etiquette a brief greeting is exchanged, but, in my experience, it's extremely rare for any further discourse to ensue.

So I was slightly surprised, a little after passing Buriton Farm, when I said a cursory hello to a man stood on the path, and rather than a similar cursory greeting, he replied "What do you look like?".

I was a little taken off guard by this, but assuming he was referring to the tweed suit I like to wear this time of year whilst walking out in the countryside, I attempted to make light of the situation by saying "It's tweed, surely everyone in the country wears tweed?".

It's a useful lesson in a situation such as this, in the opening gambit with a complete stranger, to remember that senses of humour are finely tuned engines which need to be calibrated over time. For them to be compatible relies on shared understanding. My jovial remark relied on the assumption that it would be understood I was, for comic effect, adopting the persona of a naive city dweller, with a completely unrealistic image of life in the countryside. I thought I had added sufficient hamminess to my delivery of this statement so as to make the humorous intent clear, but apparently not.

"Nobody wears tweed.", he replied, rather factually. I decided against pointing out that that wasn't in fact true, given the clear evidence he was currently looking at.

Attempting to rationalise, he asked "Did you go to public school?".

"No." I replied, ever so slightly offended by the social profiling that I was apparently now being subjected to, when all I wanted to do was go out for a walk.

"You look like something from a hundred years ago!", he continued to opine. This seemed like safer territory, we had transitioned from an apparent accusation of elite status to a presumed attempt to categorise me under the vintage clothes umbrella. Although as it happens I don't actually own many vintage clothes, and the particular tweed suit I was wearing was modern.

"A happier time, in many ways.", I replied, and given the look on his face in response almost immediately regretted it. Obviously, by just about any objective quality of life metric this would be an extremely hard stance to defend, but I was still thinking about the meal deal at Marks and Spencer. A moment of mental arithmetic later I recalled that a hundred years ago was in fact the end of the First World War.

I attempted to steer the focus away from this, and instead pointed out that I just have no truck with modern synthetic fabrics. He then pointed out that he can't actually wear wool, because it irritates his skin. I suppose at this juncture we had just agreed to disagree, and he concluded our dialogue with the amusingly sentiment free: "Well all I can say is you look extraordinary.", and we went our separate ways.

A short while later I passed another couple, who just said he cursory hello as usual.

Around 1pm I reached the top of "Beacon Hill", which must be the most oversubscribed name for a hill in English. This particular Beacon Hill had nice views of the surrounding landscape, as I'm sure many of its namesakes also do, and so I decided to pause here for lunch. To eat the sandwich I had bought earlier from Marks and Spencer. Which, I hasten to add, I had not purchased as part of the meal deal.

My peace and quiet was interrupted by a large family group who, I got the impression, lived locally, and were here as part of a New Year's Eve tradition to walk up to the top of this particular hill. I was a bit envious. They were taking group photos by the trig point - I offered to take one for them so they could all be in it, then I continued on my way.

A short while later there was another nice viewpoint, near the car park for Harting Downs, but I chose not to linger - the weather was still a bit too underwhelming to persuade me to do otherwise. After the car park the South Downs Way crossed over the road, and the terrain changed from the open hilltops of the last couple of miles, to a pleasant wooded hillside.

This then opened out into a series of lanes and tracks until it came time for me to leave the South Downs Way for today's walk, and head into Buriton.

I had been to Buriton with Chie once before, back in 2010. It was on a recommendation from Dad for nice old pubs he knew in Hampshire (and indeed somewhere on today's route I had crossed over the border from West Sussex into Hampshire). Although today's visit was very brief - just time for one very quick pint - I am pleased to report it is still very much unspoilt.

I would have liked to stay a bit longer, but was aiming for a particular train back to London from Petersfield, and still had another 2.5 miles or so to go to get there. On our previous visit, in the absence of an Ordnance Survey Map, we had followed the road from Petersfield to Buriton, but I spotted on the map ahead of today's walk there was an alternative path - Hangers Way - through the fields, and thought that would probably be a bit more pleasant.

On arrival in Petersfield I went to the General Wine Company, very conveniently located near the station, as I had done earlier this year when I'd come to the area with friends to visit the Harrow Inn. I picked up a couple of bottles of local English sparkling wine - Upperton and Hambledon.

Had a pleasant train journey back to London, having effectively a small private compartment on the train, and was back at home by 6.



Post a comment