Harrow Inn
Posted on 2018/03/04 11:28:32 (March 2018).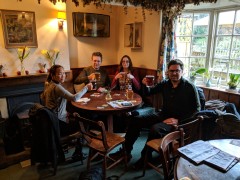 [Saturday 3rd February 2018]
The run up to Christmas usually brings with it an increased interest in "quaint" pub outings from friends at work (well actually mainly just Andrew), which are then consistently a failure because either we ultimately deem the pubs not as quaint as we'd hoped they'd be or the rest of the group invited just doesn't really get what that whole expedition is about. The Christmas just gone provided one more in a long line of such failed outings, and the expectation for it to be a disappointment has now become part of the tradition.

Normally post Christmas interest in these kind of country pub jaunts then dries up from the others (again, just Andrew I suppose), and it's back to being something only I really seem to be keen on.

This year however interest in such pub outings continued on into the New Year, and with the added catalyst of our friend Gemma visiting from the US, and a general desire to make her regret her bad life choices (moving to the US) we thought a foray out into the green and pleasant land surrounding London to find some achingly nostalgic little corner of pub idyll would be just the ticket.

Possibly a further factor was that earlier in the week I'd been spending time uploading old photos which I'd never put on the web before including some of a visit to the Cherry Tree last millenium.

So I spent some time researching where to go and eventually found The Harrow Inn which satisfied all the requirements in terms of being convenient for everyone to get to, looking superbly unspoiled, and even not allowing kids inside (which had been the main failing of a previous Christmas pub outing - the incompatibility between family friendly country pubs and beered up potty mouthed Londoners). I then eventually remembered / discovered that this was a pub Dad had recommended to me years ago - I had made a map of a few of his recommendations, and the marker for the Harrow Inn came complete with notes from Dad:

"And one more... maybe the best for last... Steep near Petersfield... Harrow... something of the Cherry Tree character... used to serve beer straight from barrel."

So that was all very nicely book-ended.

I am pleased to report the Harrow Inn was, on our visit today, still spectacularly unspoiled, I imagine almost completely unchanged since Dad was last there (nearly 40 years ago?). It did indeed serve beer straight from the barrel, and did indeed have something of the Cherry Tree's character. The tiny "public bar" room was particularly special, although we only stayed there for our first drink, as I felt we might be intruding on the locals a bit, and I'm aware the volume of that particular coterie tends to get somewhat elevated after the first drink. Hard to put my finger on exactly why it was so special, maybe partly the proportions, maybe the big open fire and the contrast to the drizzle outside, but probably more than anything the sense of timelessness of the place.

We spent most of our time there in the tap room next door, which we mostly had to ourselves, and was still lovely in its own way. The beer was delicious. The food was great, no nonsense big heary Ploughman's lunches with homemade chutney and so forth. Both the landlady and the other lady behind the bar were really welcoming and friendly. It was absolute heaven.

Sadly we did eventually have to leave - less so because of any external pressures but like many old fashioned pubs they actually close between the lunchtime and evening "sessions" as I believe they are referred to in the trade. So we walked back into Petersfield. I had chosen a second pub in the town centre for this eventuality, but it wasn't very good to be honest - the Harrow Inn was a near impossible act to follow.

As is the "tradition" on these country pub jaunts with work friends (the precedent being two trips down to Nyetimber/Nutbourne) I had a quick dash around Petersfield town centre to procure a bottle of English sparkling wine (Hambledon on this occasion if I recall correctly) and a bag of chips to have on the train. With some curry sauce.

As I'd managed to be excused from parenting duties for the whole day, on return to London I proposed going for dinner, which a subset of us did (just me, Andrew and Gemma) but somehow that plan was manipulated into going to Deptford where Andrew lives. We had some sort of Indian food at a hipster-ish restaurant which I was left a bit confused by, followed by cocktails at a bar next to Deptford station, before I finally decided it was time to call it a day and head back home.



Post a comment