The Evil that Man Do
Posted on 2007/04/26 16:52:36 (April 2007).
[Saturday 21 April]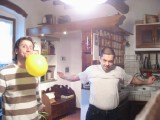 Francesco's wedding was quite interesting but lacked a certain twist that usually is given to such occasions.

Tricks and Jokes.

The main reason to us not planning anything was a certain lack of time needed to plan something really nice and well made, plus the fact that noone seemed interested in doing anything after all the problems that organizing a simple Stag Do took.

We were not happy about it of course and right when Elisa and Francesco left for Japan on their honeymoon, we started playing with the idea of doing something to their house.

It is custom in Italy to play tricks and jokes to the newly married couple. Most of the times they take place during the party, the night after the party or the day after, but that's the "usual" stuff, so we couldn't give a shit about it.

The first problem that we had at hand was finding a set of keys that would let us in the house.
As Franz and Elisa were away, stealing and copying their keys was not the issue, so our only target could be Francesco's mother.

A little digression needs to be made on Francesco's mother...

She knows us from a very long time, at least since I started playing RPG with Franz and the other guys more than 15 years ago.
I think that she STILL thinks that we are really bad and deviant kids, mostly because every time we had a session in Franz's house, the noise, burps, smoke from cigarettes and swearwords could be heard and felt probably in the whole block...

I even remember a time when she was opening the door of the room where we were playing just in time to hear one of my best burps ever... I remember the scene...

"Hei kids, I brought some biscu..." ROOOOOAOAAAAAARRRRRRR (goes me) "....its"

She never said anything, left the tray with the goodies and left the room smiling...

ANYWAYS, I had to go there and ask for the keys, fortunately Francesco gave me a good opportunity to go there as he called me before leaving telling me that he left an hard drive for another friend at his parent's home, and that since I was going to see the guy I should go there to pick it up and deliver it for him.

So I rang, talking about the hard drive, and then with the nicest possible voice, expression like Puss in Boots of Shrek 2, I asked if they could give me the keys so that we could play some (textual words) "Innocents tricks and jokes for when they come back"...

My very high skill in persuasion landed me the set of keys!

So it was the day before them coming back that we had to set up all the jokes and tricks, I think that pictures will do the best telling, but it was really fun thinking about all the nastiest things ever (most of which were never put in practice, so that we could still hope to have a friend called Francesco after he came back), and of course the whole set up was quite fun.

It took three hours to get the house booby-trapped and good to go.

The house was rigged with:

1. Several balloons filled with flour (when they explode is like Chernobyl but better)
2. Several meters of cooking string, set in a way that it was quite hard to pass
3. 1kg of flour tied to the string and hanging from the celing
4. bedroom closed and keys put into some apricot juice then placed in the freezer
5. Bathroom filled with balloons
6. pavement clustered with plastic cups filled with water

Apparently Francesco is planning now to have us for dinner and poison us, but set aside this minor side effect I think that they liked the jokes.

So that's it, we can call the wedding closed now,

and they lived happily ever after....



Comment 1
Splendid work! Mind you, I guess your friends are now hoping YOU will get married one day!!!! :D

Posted by Nigel at 2007/04/26 19:19:04.
Post a comment