Busy Saturday
Posted on 2007/07/01 21:38:46 (July 2007).
[Saturday 30th June]

Today I was rather busy, it seems quite strange because I feel that I am quite free during the week and then at weekends I get a bit busier. To be honest I have nothing to complaint about it because if I was to be free at weekends too I'd probably shoot myself.


Anyways the first bit of business was going to see Paola's wedding in Florence. When I was a kid, our family and Paola's family used to have summer holidays together, we went to several places including Yugoslavia (prior to the war), Greece, Corsica, France and many other countries.

We always got along very well and me, my sister, her plus a series of other kids used to play a lot and most importantly did not get tangled in our respective parents feet. They seemed to appreciate this a lot!

Anyways after many years that we did not see each other I got the news from my dad that she had a baby and was getting married and of course we were invited. I had to decline the invitation for lunch because of the other appointment of the day (later), but I managed to go at the ceremony, which was surprisingly quick (an aspect that I absolutely loved). It was good not to be the best man or whatever other role I have had in the recent weddings that I have been to, it gave me freedom of doing what I wanted, take all the pictures that I wanted and so on... Good stuff, of course best of luck to them and their family!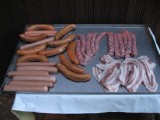 In the afternoon it was time to set off for the annual edition of "PIGS ON THE HILL".Pigs has been invented by Luca, he has a nice house in the countryside near Pistoia, in a place called Collina (which means "HILL"), and every year all the friends meet there to have a massive barbecue of strictly pork related material (hence the "PIGS").
I never managed to go because I was always busy with business trips around the globe, but this time I was there and I managed to take part at the eat-fest.
Nothing special to report apart from a lot of food being ingested, and wine and other things nice...

Definitely a party that I will not miss again (I hope!)...



Comment 1
I found your comments on the wedding amusing - you are clearly not somebody who is overcome with emotion at that kind of event. :)

As for the festival of carnivorism, I obviously can not condone the activity itself (!) but I am glad to hear you've had something fun to do following the recent appallingly crappy time you've been having!

Posted by John at 2007/07/01 22:03:34.
Comment 2
John: Yes I hardly find the ceremonies amusing, it Italy they are usually linked to a mass so it's doubly boring. But I have to add that Paola is a friend that I didn't see in more than 10 years so I wasn't involved a lot as I was for Franceso's wedding or Matteo's or my sister's-...

Posted by Lox at 2007/07/01 23:21:35.
Comment 3
Great to see you had a good weekend for once, Lox!! :)

I look forward to a wedding these days - sadly hardly any of my friends are left who have not yet married. Well one guy is, but he is living with his girlfriend and not likely to change "status"!

Posted by Nigel at 2007/07/02 14:02:48.
Comment 4
Nigel: Weddings are nice, I like the event but it would have been better if I actually managed to go to the lunch together with them! :D But I cannot complain because "Pig on the Hill" was a jolly nice thing to do too...

Posted by Lox at 2007/07/03 09:37:55.