Fabio and Camilla get Married
Posted on 2008/02/03 02:09:22 (February 2008).
[Saturday 26th January 2008]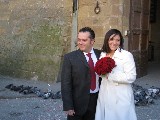 I have only met Fabio and Camilla recently, I think the first time was somewhere around September of last year, at their place, to discuss about their honeymoon. (they are going to take some friends to Colombia, unfortuntely for work related matters I will not be able to join...)

Camilla is one of Chiara's best friends, and it was no surprise to me when Chiara told me that she was picked to be the "best woman" (or witness as we call it here), for the ceremony.

Fabio and Cami are really great people, even if I don't know them from a long time there was that little something that clicked and that makes you feel at ease even if you never met before.

The ceremony was going to be held at Palazzo Vecchio, in the Red Room, some of you might remember that my friend Matteo got married there as well.
Funnily enough Matteo's wife is from Colombia, just like Camilla... So far two weddings in the Red Room and two Italo-Colombian couples... That's rare I think!

Anyways the ceremony was quite nice, the official this time didn' poil everything with strange comments (as it happened with Matteo), and we were off to the restaurant.

Now, wedding receptions are not known for their grandeur in terms of food, mostly because it takes a very skilled crew of cooks to cater for large people, managing to serve hot and most importantly well cooked dishes to everyone.
I think that there must have been at least 50/60 people at this receptions, but I have to say that it has been by far the best I have been to, the food arrived always perfectly cooked at all tables, and the menu was really really great.

So we ate, sang, tried to get the bride and groom drunk several times, I was also at a table with very nice people and we went along very well chatting away, all in all a marvellous experience, considering that I knew Chiara, Cami and Fabio only...

Around 6ish we were going back home, a great day indeed!

ALL THE BEST FABIO AND CAMILLA!!! (and sorry for not joining you on the wedding trip...)



Comment 1
You seem to go to a lot of weddings Lox!

Posted by John at 2008/02/03 09:28:01.
Comment 2
John: Well, let's say that for the moment as log as they are not mine.... :)

Posted by Lox at 2008/02/03 13:07:56.
Post a comment